MESCO Services
Ethernet-APL
The launch of Ethernet-APL (Advanced Physical Layer according to IEEE 802.3cg) opens up new possibilities for the process industry.
The process devices can communicate robustly with high data rates on existing 2-wire lines, even in explosion-proof areas. They are supplied with voltage via the communication line using PoDL (Power over Dataline). They are fully integrated into the Ethernet topology of the overall system.
Ethernet-APL thus enables the consistent use of established Ethernet protocols (non-safe and safe) from the sensor to the controller. This has considerable advantages in terms of device installation, configuration and maintenance. In addition, safety protocols can be used for safety-related tasks in the field devices.
Your benefit
Proof-of-concept with use of MESCO Ethernet-APL evaluation boards
MESCO Design Packages for easy implementation of the Ethernet-APL interfaces
Simple integration of multi-protocol solutions on common Ethernet-APL hardware
MESCO design know-how in the field of measurement technology, Ethernet communication, functional safety and explosion protection
MESCO Ethernet-APL Evaluation Board with a wide range of uses and analysis options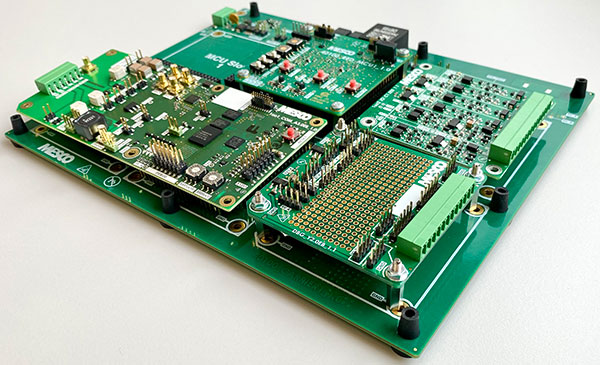 Development platform for safe field devices
With our new evaluation board Ethernet-APL we support you in the implementation of the new Ethernet technologies from the beginning of your development until the market launch and certification of your field devices.
Your advantages:
Easy setup of a functional prototype
Use for technical feasibility studies
Easy connection to existing field devices via serial interface
Easy adaptation of the communication interface to the requirements of data transmission, power consumption of the field device and consideration of explosion protection requirements
Reduction of development risk
Reduced costs
Design-in saves development time by using proven architecture, circuits and SW artifacts
Fewer bug fixes and redesigns
Supports software integration of multiprotocol solutions on common hardware (e.g. PROFINET/PROFIsafe or other Ethernet-based fieldbus systems)
Faster time to market with Ex and Safety approval through our expert support
Do you have any questions?
We are looking forward to your request.